Things look different up close
My vision is deteriorating, slowly. Even with my anti-glare multi-focals, anything further away than about 10 metres is fuzzy. This morning on my walk with the dog, I mistook a coffee maker for a lantern, and a moustache for an oxygen nasal tube. Inside 10 metres, things became clearer. I've learned not to voice these first impressions, lest my loved ones fret and get it into their heads that I'm not fit to drive. (My optometrist says I'm fine.)
Examples of things not being what they first appear to be are easy to find. Two weeks to flatten the curve, from a distance, looked like a (barely plausible) short term tactic that might solve an alleged future problem of crowded hospitals. Turns out it was a sucker punch that would have Melburnians on the ropes being belted around the head for 262 days of lockdown. Hmmm. 'Vaccines', from a distance, promised safe and effective protection. Turns out not so much. Ask the Giro d'Italia cyclists who are falling like nine-pins, despite (because of?) mandated injections.
Our civic institutions look different up close, too. From a distance, the Victoria Police might just pull off a workable impersonation of a force that acts with impartiality and reasonableness. Up close, taping off children's playgrounds and inspecting adults' coffee cups makes the cops look like goons. Framing George Pell and using lawyers as informants reinforces this impression.
From a distance, removed from the actuality of an atrocity right in our midst, our Human Rights Commission might have been expected to stand up for those Housing Commission tower residents who were barricaded in their apartments without warning. Nope. Crickets.
It's not just in Australia, either. From afar, the WHO has endless programs and initiatives wrapped up in motherhood niceties. Up close, their proposed treaty and regulation changes threaten national sovereignty, as David Bell argues in Brownstone.
What then to make of our Constitution? It couldn't prevent the ostracising of those who declined to take an experimental injection. It couldn't prevent citizens being prohibited from leaving the country. It couldn't prevent medical treatment being denied if it meant travel across a state border. Would changing the Constitution be effective in preventing similar injustices in the future? To ask the question is to know the answer.
Our Constitution is up for a change, though, via a referendum to be held, apparently, some time this year, to establish an indigenous 'Voice'. Will the 'Voice' look different up close? From far away, it looks so fuzzy it's hard to tell what, exactly, it is. Still harder is to figure out what it is supposed to do, or what it supposed to prevent. Advocates and opponents alike will find it impossible not to project their own hopes and fears onto the sound bites offered by the politicians, and the various pundits. It will only be up close, when something tremendous happens, that the true nature of the Voice will reveal itself.
All manner of small-v voices are starting to chime in. The Australian Football League seem to feel compelled to declare their hand. I'm not sure what football has to do with a Constitution. Also joining the fun is the smartphone app Footy Live, helpfully renaming the teams in 'First Nations' style.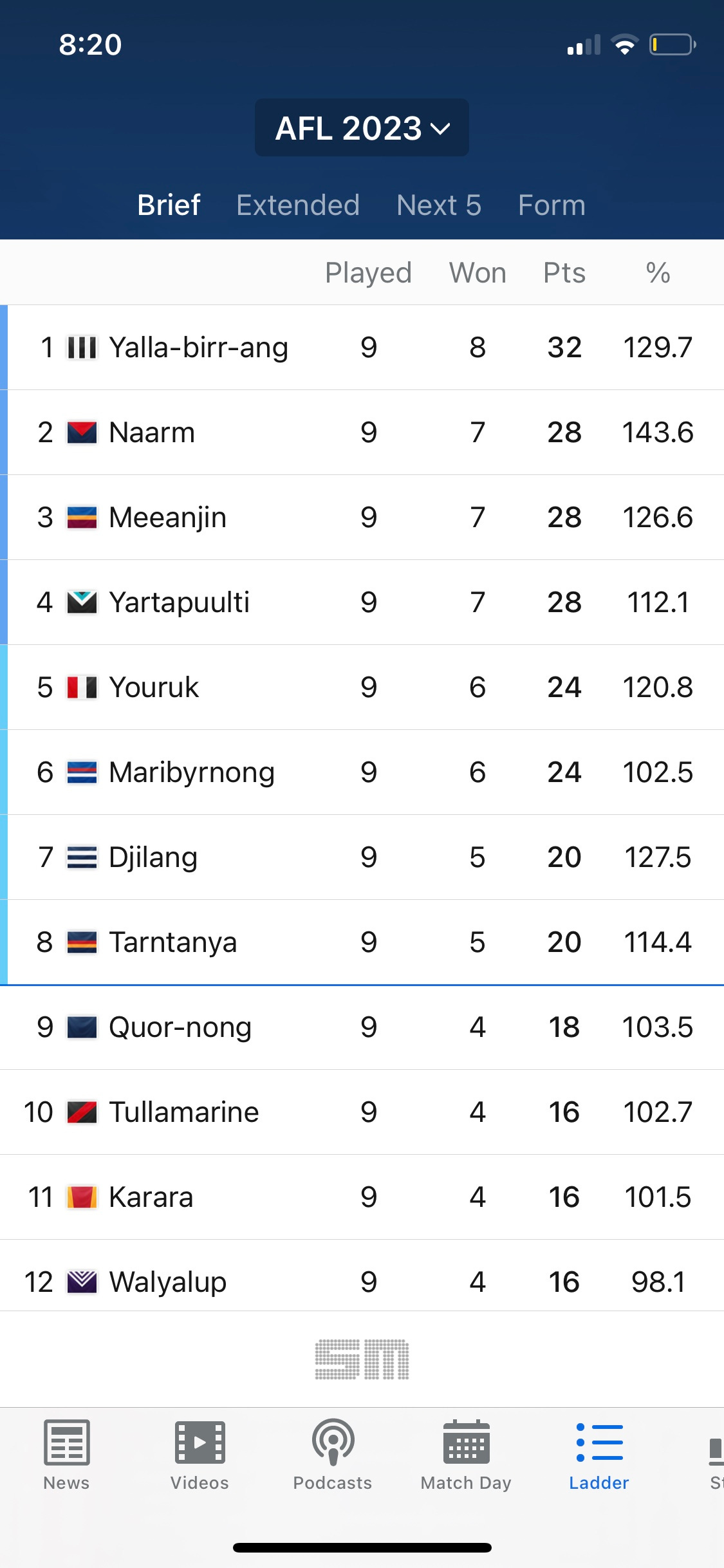 Still less can I figure out what a drug company has to do with it. From far away, the AFL administers football, and from far away, Pfizer makes drugs. Up close, they seek to influence referendums. All is not as it seems.
It comes down to where you put your trust, or your faith. Are you really going to keep looking at things from far away, and hitch your wagon to the Voice? Are you going to keep believing the government ads for the fifth, sixth and seventh mRNA shot, or are you going to do something more directly known to be beneficial to your health? Will you persevere in believing the far-away promise that solar and wind power will eventually bring energy prices down? Are those things going to live up to their promises and fulfil your hopes and dreams? On what ARE you pinning your hopes and dreams? Come to that, what are your hopes and dreams? Given that we have seen them fail over and over again at protecting the things we hold dear, our institutions are non-starters for your trust. Certainly not princes, or princes recently crowned as kings.
There's a certain type of peace that comes once one concedes that the far-away view is an illusion and that the close-up environment is where we can have an influence. A good place to start is in rebuilding our institutions, from the ground up, organically, to support whatever it is that real people are deciding to do as part of living a fulfilling life. Many such movements are taking steps along these lines. Rival institutions are popping up to challenge the incumbent ones which failed us. The Australian Medical Professionals Society is one such, emerging as an alternative to the 'incumbent' Australian Medical Association, which was found wanting in the eyes of many.
But before any rebuilding, or building anew, can start, the first thing is to get out and live a meaningful life. If it so happens that like-minded people find a need for an organisation to help them pursue their hopes and dreams, then that's when it should be created. To create for its own sake risks building an institution that is not fit for purpose. We've got plenty of those already.
This article first appeared on Richard's Substack here.